Credit Card Approval
All Sales are USD ONLY
The BILLING ADDRESS that you supply must MATCH your CREDIT CARD BILLING Statement. If a NON MATCH is returned your order will not be shipped.

The 3 digit code on the back of your Credit Card must be correct or we will be unable to process your order.
Visa / MasterCard and Discover Holders

The verification number is a 3-digit number printed on the back of your card.
It appears after and to the right of your card number.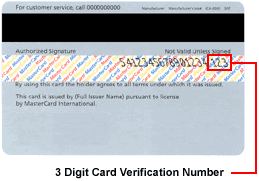 If the SHIP TO ADDRESS is DIFFERENT than the BILLING ADDRESS, be sure to have a VALID EMAIL and TELEPHONE NUMBER, we will verify before we ship your item (s).
We may ship with a SIGNATURE REQUIRED for the ship to destination.
A note about Credit Card Fraud:
Credit card fraud is a felony and we will aggressively prosecute anyone attempting to misuse a credit card number. We track every transaction and will use all means available to prosecute persons attempting fraud.
Your Credit Card Statement will state
ADVANTAGE SERVICES
as your listed purchase.
If you DO NOT supply a VALID or CURRENT EMAIL address you WILL NOT receive a TRACKING NUMBER or PAID INVOICE for your purchase. This information is emailed ONE (1) time when your order is packaged.

We will be UNABLE to send this information a SECOND time due to the AUTOMATED PROCESSING system used for this EMAIL Notification.
*